Mobile marketing trends: Win on Google page one with Universal Search
Fewer traditional links on page one means mobile marketers must target Google's universal search boxes including videos, knowledge graphs, direct answers and app suggestions, according to new research.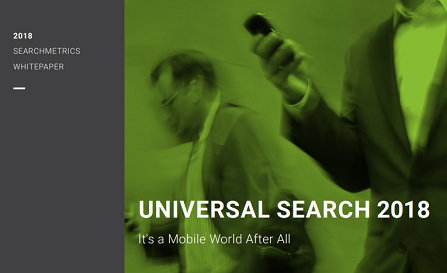 The study, from Searchmetrics, indicates that online marketers are finding it harder to boost mobile organic search due to Google's evolving first page challenges, such as via voice, direct answers, apps, videos and a growing list of newer universal search boxes.
From relevant videos, images and news results, to flight information, stock updates, and even song lyrics, Google now integrates hundreds of different box-outs on its first page to help direct searchers to the answers they are looking for.
On a small mobile screen, these integrations stand out even more, generating high click-throughs and presenting a valuable branding and traffic opportunity that marketers should include in their mobile search and content strategies.
"Any online business looking at search traffic should make optimizing for key universal search integrations an important part of its mobile strategy," said Marcus Tober, CTO and founder of Searchmetrics. "That's because the organic traffic that comes from the 'classic ten blue links' in the search results continues to fall – in mobile, for instance, there are just 8.5 links on page one. And the large number of integration boxes Google now includes, coupled with the smaller mobile screen size, means that searchers have to actively scroll down – often several times – to even see the traditional organic results placed lower on the page."
The new Searchmetrics study 'Universal Search 2018: It's a Mobile World After All' analyzed page one results on Google.com for half a million search queries to identify the most frequently occurring universal search integrations.
Here are six key findings from the study that can inform mobile marketing strategies:
To read more go here
---